The pilot project saw PIND working with 80 farmers from United Ufuoma Fish Farmers Association (UUFFA), a large cooperative farm of around 400 farmers at the time (its membership has now grown to over 600) to help instill best practices in the lucrative and popular practice of growing catfish. Having run from November 2012 to September 2013 under PIND's aquaculture program, this pilot project enabled members of this business membership organization (BMO) to maximize their fish feed and grow catfish more efficiently and profitably.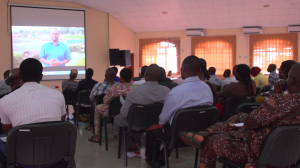 The results sharing workshop, themed "Ensuring sustainable impact through changing practices," was the perfect avenue with which to share results of the demo ponds intervention with stakeholders in the Aquaculture value chain, and to share information and build linkages between fish farmers, input suppliers (Feed manufacturers, distributors, hatchery operators, fish processors and marketers) and service providers (credit, extension and veterinary services etc.) as well as to review modalities for scale up of intervention in other locations.
Key Results From the Demonstration Pond Pilot Project
Before the intervention, fish farmers overstocked their ponds with as much as 1631 fishes on the average per pond, because of the average 46% mortality rate of their fish, meaning that nearly half their fish would die by the time of harvest. Post-intervention, average mortality reduced to 30% and average yield was up to 711kg, even though the farmers stocked less (1160 per pond).

Fish farmers saw that the higher cost they spent on fish feed for the demo pond (7% higher than pre-intervention) was offset by the cost the average fish farmer incurs on buying more fingerling to offset previous high mortality. This means that, post-intervention, farmers can invest in higher-quality feed to improve their yield. Corresponding to higher yield, farmers also saw a 16% increase in sales of fish after intervention and 17% increase in profit margin from 5% to 22% on the average. Not only were the farmers stocking less and yielding more, their improved business skills allowed them to boost income.


Influencing Fish Farming Practices
The training effective survey shows clearly that farmers started to use these best practices even before the pilot project ended. Of the farmers surveyed, 96% are already adopting the pond netting practices shown during the pilot project. 57% have already adopted the new quarantining practices, 82% have already adopted the record-keeping as taught. Indeed, 100% of the farmers surveyed agree that the intervention was useful to them.
In addition to improving fish farming practices, the demonstration pilot project helped to improve fish farming businesses by partnering with United States Agency for International Development (USAID) MARKETS II project to conduct a training course using the Nigerian Agricultural Enterprise Curriculum (NAEC) to enhance business management skills. The NAEC farmers taught the 80 farmers from UUFFA practical methods and techniques for planning production, projecting income, tracking costs and productivity, assessing risk, managing debt, and maximizing savings and profit. Following this initial training, 60 farmers willingly covered their own costs to participate in a second-level NAEC training in Edo State to become NAEC trainers themselves. Three of these farmers then went on train 54 farmers in Edo State.
Extending the Demonstration Pond Project to Other Parts of the Niger Delta
With the success of the demonstration pond pilot project, PIND is eagerly anticipating partnership with MARKETS II to scale up the intervention to other locations in the Niger Delta and disseminating learning from the pilot. A demo pond training manual has been developed as well as a demo pond training video. Additionally, a training of trainers is underway for service providers, government extension agents and feed company staff who would then utilize the training and the training materials. PIND believes strongly that this project will go a long with in its vision to boost income and improve livelihoods for fish farmers in this most lucrative sector.