PIND organized a media chat for the Niger Delta Development Forum (NDDF) a day before the two-day forum to apprise the media of what PIND is about, what the Foundation's objectives are, and why the Foundation is hosting NDDF. On hand to talk to media were PIND's management led by Executive Director Mr. Sam Daibo, along with Program Director Dr. Dara Akala, Strategic Programs Coordinator Ms. Bose EItokpah, and Field Programs Manager Mr. Sylvester Okoh; and representatives of PIND partners Mr. Bill Grant of DAI and NDPI Program Director Mr. Dennis Flemming.
PIND's management addressed the gathering first. In his comments, Daibo expounded on the importance of fostering collaboration between key actors in development and that hosting the Forum in Benin City, Edo State, an entrepreneurial hub with plenty of MSMEs operating in the city, perfectly frames the discussions to be had on how best to improve the business environment for MSME operators in the country. Dr. Akala added to Daibo's comments, citing the importance of capacity building and peace building to creating an enabling environment for economic growth.
"We're not just looking to deepen our linkages with PIND and PIND partners," said Mr. Dennis Flemming, NDPI Program Director. "We are also looking to foster collaboration with other organizations as well.
Media queries covered such issues as importance of markets, PIND's value chain work, and PIND's approach to economic development. In response to a question on how to grow markets, PIND management advocated letting the market determine the price, and production according to the needs of the market, all of which springs from an understanding of the end-market.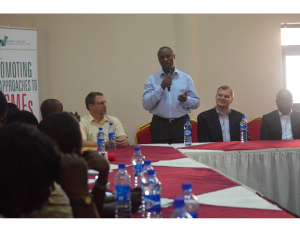 "You have to know your market," opined Mr. Daibo. "Take cassava, for example. Some people want garri, others want to use it for High Quality Cassava Flour, others want it for starch. You have to know your end-market, what they want, and how much of it you can produce efficiently."
PIND management also made it clear that the Foundation's work was not merely about boosting production; it was also about bringing together producer and supplier, farmers and markets. Management did this by apprising the media of the outgrower scheme with the Edo State Government as a partner. Working with Thai Farms to ensure demand for farmers' produce helps in a bid to build better markets for farmers, tying the Foundation's cassava work to its aquaculture and palm oil.
Most importantly of all is the impact such a Forum can have on the "ordinary man on the street", as a journalist phrased it in a question to Mr. Daibo during the session. In response, Daibo made clear the importance of economic development and peace to everyone, and the life improving potential of endeavors like NDDF clearly enumerated in its outcomes that focus on information-sharing and access to funding for businesspeople.
"NDDF provides a forum through which we can investigate issues why these problems exist, why they endure and what we all as stakeholders in development can do to make them better," said Mr. Grant of PIND partner DAI. "I'm so excited for the great panel discussion sand the question from the audience. I can already tell it's going to be the most exciting conversation."