After more than five years of work, the Foundation for Partnership Initiatives in the Niger Delta (PIND) and the Niger Delta Partnership Initiative (NDPI) – which together focus on addressing socioeconomic issues in the Niger Delta – hired the Initiative for Global Development (IGD) to assess the organizations' impacts since 2010. Throughout the evaluation process, IGD felt it was important to highlight not only what impacts were made, but also how. The evaluation shed light on the organizations' progress, and presented insights for development professionals seeking to create positive change in other complex environments like the Niger Delta.
Insight #1: Building Foundational Networks
Leveraging networks has been a hallmark of PIND and NDPI's work in the Niger Delta. Like many regions, there are simply too many socioeconomic issues to address and not enough resources to go it alone. Humility is needed to honestly acknowledge that no one organization can resolve the long-list of factors that contribute to poverty in any particular area. From the start then, PIND and NDPI realized creating truly widespread, long-lasting development would need to come by connecting the pockets of disconnected development efforts already taking place in the Delta and sparking new ones to take hold.
However, that can be easier said than done. What often stalls the linking and starting of new development efforts is a lack of information sharing, not enough cooperation among different organizations, and distrust between public, private and civil society sectors. Crafting an overarching, common goal which everyone can agree to is helpful at the beginning to break down barriers and open the door for transparent dialogue. But networks of organizations, no matter how committed or coordinated, need those working at the grass-roots level to truly make substantial change. Connecting organizations focused at the community-level is a critical part to taking a network-based approach to development. PIND and NDPI started out by identifying a few local nonprofits and civil society organizations that could complete research projects to gather primary data on gender, youth, and economic issues in the region. These short-term, pilot partnerships not only helped gather good data for project design, but also helped in identifying reliable local organizations to work with and integrate into a collaborative network committed to Niger Delta development.
Traditional partnerships merged into expansive networks for development can increase trust and credibility between various individuals and organizations. In our experience, this leads to:
Greater sharing of information and lessons learned between projects;
A quicker rate at which new ideas, products, and technologies spread throughout society;
A stronger collective influence of those committed to a common goal – such as greater peace and development in the Niger Delta.
Insight #2: Developing Local Market Systems
 Another key takeaway that IGD validated during the assessment was PIND and NDPI's focus on developing market systems. A problem of traditional development in the past 50 years has been that as projects finish, usually so too do their benefits. Market-based development emerged as a potential solution to this by reducing dependency on donor funding. A first step of the approach is critically analyzing what's going on in a certain market – whether that's in agricultural, manufacturing, textiles, or in other areas of the economy – and diving deep to understand what the underlying reasons are for the problems people, as producers and consumers face, along with businesses. Rather than focusing on how to address the problems yourself as an outside development organization, a market-based approach is about ensuring solutions reflect local demand and are locally created.
To do this, PIND and NDPI work with individuals in local markets – such as equipment fabricators, business owners, and service providers – to see opportunity in providing certain goods and services needed, while helping consumers – including community members, farmers, and others – to see value in adopting them. By making sure solutions are locally provided and based on local demand means they are more likely to continue after a project ends. Using this type of approach can often take longer, but it's what ultimately leads to greater sustainability.
Insight #3: Co-creating Solutions through Piloting
 The Niger Delta, like all societies, is complex – with a broad mix of ethnicities, economic forces, regulatory environments, and social norms. Entering such an environment and expecting a development program, however well designed and thought-through, to achieve all it intends without changing is fairly unrealistic. Investing heavily in a program from the start, under the assumption that what is going to be provided is what's most needed and desired by communities can waste significant amounts of funding, distort local economies, or worse – both.
To help overcome this, PIND and NDPI focus on using lean innovation that favors experimentation over elaborate, firmly finalized planning upfront. Piloting products and services, then adapting them as necessary based on real-life feedback is a crucial part of the business world. PIND and NDPI believe it's also a critical part of development. The organizations therefore invest significant time and resources at the beginning of a project to understand the root causes of problems, not to produce solutions. Truly fit-for-purpose solutions are recognized as the result of many iterations of piloting. PIND and NDPI believe this is critical to not only getting the right solutions, but also to helping ensure those who are intended to use, produce, or consume the products and services rightly have a say in what works best for them.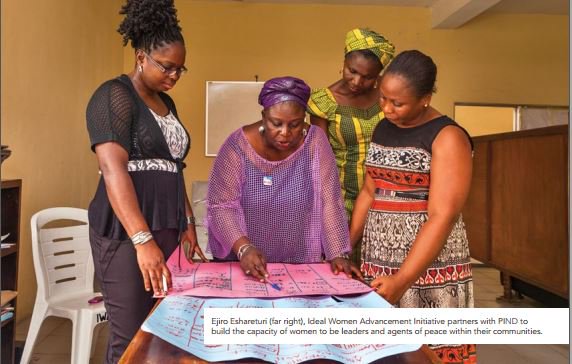 Finding the Right People is as Important as the Right Approach
More essential than finding the right approaches though is finding, cultivating, and building the capacity of the right people to make those approaches work. Program design and management should start with people first. Building foundational networks, making markets more efficient and inclusive, and piloting projects all take significant human capacity. Committed, flexible, and smart individuals are the key thread woven throughout all good development efforts that create change in complex environments around the world.
You can access the report here. Also follow the conversation online using #NDImpact.