Facebook's Head of Platform Partnership Middle East and Africa, Chukwuemeka Afigbo was in Port Harcourt on April 27th – 28th 2017, to access the tech community and interact with startup founders and social media influencers. 

He arrived Port Harcourt on Thursday April 27th, and was hosted to a reception organised by Coral Lifestyle Magazine at the Coffee Lounge of the Sweet Tooth Galeteria. The event was attended by Erefa Maclayton, Nana Marshall-Harry, Uzoma Chukwuma, Uche Aniche, Ebenezar Wikina, ThankGod Okorisha, Bereni D. Fiberesima and Sharon D. Fiberesima (Host)
On Friday April 28th Mr Afigbo visited four hubs and co working spaces including Bubbles Co-Working, Olotu Square, KoWork Ng and Ken Saro-Wiwa Hub and interacted with developers, and founders
He thereafter moved to the prestigious Genesis Skybar lounge, where he participated in a Startup South Fireside Chat, moderated by Uche Aniche. The event was sponsored by Project LEAD, (an initiative of Genesis Group) and Netopps.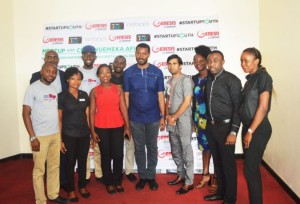 The interactive session gave Mr Afigbo the chance to share his inspiring story, connect with the youth in Port Harcourt and answer questions. He talked about some of Facebook's programs and products, including the F8, Facebook Developer Circle, Messenger Bot, Free Basics etc. He commended youth and encouraged them to be consistent and keep improving themselves. He lauded the Genesis group for sponsoring the event and supporting the tech community in Port Harcourt.
In her vote of thanks, Strategic Planning Manager at Genesis Group Mrs Uzoma Chukwuma thanked Mr Afigbo for the being a role model to the youth and the tech community. She explained that Project LEAD was an initiative conceived by the Genesis Group MD Dr. Nnaeto Orazulike, to inspire youth to achieve their dreams. Project LEAD which stands for Living Everyday Achieving Dreams.
Mr Chukwuemeka Afigbo was on an assessment tour of some parts of Southern Nigeria. He had earlier visited Nsukka for the inauguration of Roar Nigeria, an innovation hub in the University of Nigeria. He also visited Uyo, before coming to Port Harcourt. Â He has since returned to his base in London.