The Foundation for Partnerships Initiative in the Niger Delta (PIND) was established in 2010 to build partnerships for peace and equitable economic development in the Niger Delta. PIND's current strategic period (2015-2019) is coming to an end, thus the organization is conducting a Participatory Strategic Review (PSR) exercise to collect insights and perspectives from stakeholders to inform its priorities and identify new opportunities for the continued development of the Niger Delta in its next strategic period (2020-2024).
We invite you to participate in this short survey to support our mission.
PIND's Four Program Areas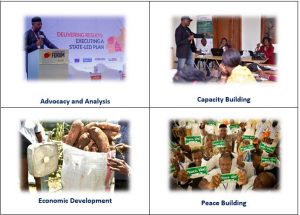 CLICK HERE TO PARTICIPATE IN THE SURVEY
This questionnaire has been designed to collect your thoughts and perspectives. The data gathered will determine the new trajectory of our work to advance the region.
Be part of creating change in the Niger Delta by offering your ideas!
For more information about PIND Foundation, please visit www.pindfoundation.org.