By Bariton Lezabbey
"Imagine a gender equal world. A world free of bias, stereotypes, and discrimination. A world that's diverse, equitable, and inclusive. A world where difference is valued and celebrated. Together we can forge women's equality. Collectively we can all #BreakTheBias". This was the note to commemorate the International Women's Day (IWD) on the 8 March 2022 by the UN Women.
The recruitment process for the Bodo Remediation and Revegetation Project, as managed by the Bodo Contact Committee (BCC), gave high consideration to ensure the inclusion of women, people living with disabilities and the elderly into all Project related activities.  This includes the physically difficult tasks associated with cleanup. Each of the 2400 workers, involved in the Project from the Bodo Community, undergo training to prepare them for field work within the difficult terrain that characterizes the Project area.
Many women in Bodo like other indigenes from the Niger Delta are the breadwinners and caregivers to their household. They cultivate their farms for both subsistence and small-scale, cash-crop farming and travel long distances within the Bodo-Bonny creeks to pick periwinkles. With the start of the remediation effort, many of these women have been recruited and trained to work as oil spill responders, equal to their male counterparts. This has not only reduced their overall poverty and dependency on others but has also provided them an alternative means of livelihood. This Bodo Project experience can be utilized by them to seek future opportunities elsewhere on remediation efforts across the Niger Delta and Nigeria.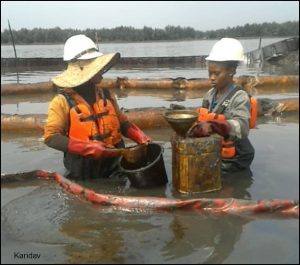 Women scooping recovered oil into cans. Photo: Karidav Integrated Ltd.
Women make up to 43 percent of the total workforce on the Bodo Cleanup Project. They dominate (about 98 percent) of the medical unit overseeing on-site worker health and Covid testing. Women also work in the administrative offices of the remediation companies implementing the Project.
Doing the hard field labor, women perform such tasks as raking and tilling, scooping of recovered oil into cans, boom tending and evacuation of solid waste from the site of operation to shore.
In accordance with the Project criteria, all newly recruited workers are required to undergo an intensive classroom learning as well as hands-on field training in the use of oil spill response equipment to meet the certification requirements of the International Maritime Organization (IMO) Level 1 and Level 2 Oil Spill Response and Management programs.
With the support from the leadership of the Bodo community, under the direction of the Paramount Ruler, King John Berebon, the Bodo Remediation and Revegetation Project is forging women's equality and contributing to #BreakTheBias.