Given the spate of violence and cult-related conflicts in the Ogoni region of the Niger Delta and Bodo community in particular, the Bodo Mediation Initiative (BMI) under the chairmanship of Mr. Inemo Samiama, summoned for an inclusive security plenary session to develop solutions to the insecurity in the region on August 29, 2019.
The special plenary meeting had in attendance all key stakeholders from the BMI secretariat, Bodo community, Shell Petroleum Development Company (SPDC), remediation contractors and security agencies involved in the Phase 2 Bodo cleanup to discuss and brainstorm as how to address the security issues in Bodo, and to provide a safe and habitable environment for the successful implementation of the Phase 2 Bodo cleanup, remediation and restoration project.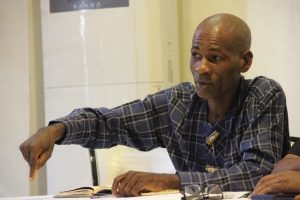 H.R.H King John B. Berebon, speaking for the Bodo community stated that the freedom to operate (FTO) issued to the BMI and SPDC is valid and the community stands by it. Furthermore, the King affirmed that "security is everybody's business, and the community will take the lead and other entities will support the process in ensuring adequate security during the cleanup project". The community does not have the capacity to provide the total security required but will address issues emanating from the community.
ALSO READ
Oil community wants Shell to expedite action on spill
BMI Sensitizes Bodo Community on the phase 2 Bodo Clean-up Project
2018 Global Report on Food Crises
Commitments were made by the Bodo community leaders and solutions was proffered on how to address the security concerns in the community by various stakeholders. Prominently, amongst the solution proffered, was the constitution of a security committee which would be comprised of representatives from key stakeholding entities in the Bodo cleanup and would have the responsibility of reporting early warning signals to appropriate security authorities and stakeholders during the life of the project.
Hon. Gabriel Pidomson, Chairman Bodo Contact Committee (BCC), addressing the plenary in session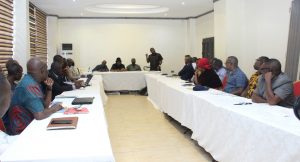 About BMI
In 2013 the former Dutch Ambassador to Nigeria, His Excellency, Bert Ronhaar, took a personal interest in the Bodo case and he sought to assist in bringing about the clean-up, remediation, and restoration of oil impacted sites in Bodo. His consultation with the Nigerian government, SPDC, and the Bodo community led to the establishment of the Bodo Mediation Initiative (BMI) which was set up to oversee and mediate throughout the clean-up project.
____________________
For more information on the phase 2 Bodo Clean-up/Mediation Initiative. Please contact:
Email: bmicommunications2@gmail.com  | Twitter: @BMI_BodoCleanup |  Facebook: BMI Bodo Cleanup