Lola Omolola set up a 'secret' Facebook group for Nigerian women to speak out against misogyny. But can a group this big remain a safe space? 
The story of a 'secret' Facebook group for Nigerian women that became an online phenomenon, with more than 1 million members, began when the news broke in 2014 that 276 schoolgirls had been abducted by the Islamist group Boko Haram, in northern Nigeria. It was then that Lola Omolola decided it was time to act. 
"Whenever I turned on the radio and TV following that event, everyone wanted to talk about terrorism, saying terrorism was responsible for what happened", Omolola said recently. "I had a completely different take on it because I was one of those children", she added, expressing a deep affinity with the abducted girls. 
The kidnapping, she continued, reflected the experiences of so many Nigerian women and girls, "trained to endure their violence and mistreatment and not say anything". She looked for women with experience in building online communities and, in 2015, founded the 'secret' Facebook FIN  Female in Nigeria, now Female IN.
At that time, Omolola could not have anticipated that it would flourish into an online community of more than 1.7 million members in just a few years. With a mission to support women "to be who they want, say what they want, without fear of reprisal", FIN is moderated by administrators who maintain strict rules. 
Those unique rules seem fundamental to the successful running of the group and were one of the things I was most surprised by when I first joined FIN over two years ago. At that time, the numbers had just crossed a million "sisters".
'Bold and unapologetic' 
From my observations, members cannot give religious advice for instance, while administrators delete any comments that pass judgment on women. These rules have enabled FIN to become a safe space for Nigerian women to share some of their most sensitive thoughts and experiences including sexual abuse, violence, and discrimination.
FINsters' posts are bold and unapologetic, but they aren't always serious. Many FINsters describe their romantic interests or recount comical encounters in their daily lives. There are also meandering tales of family feuds. Others use the forum to link members with job opportunities, career advice, and organizational contacts.
FINsters write about their lives in such detail, and with such openness, that it's no wonder they often refer to one another as 'sister' in their posts. Omolola is meanwhile gaining increasing recognition for creating this online space. 
In 2018, she was a recipient of a Women of the Year award from the ONE advocacy group. This year, to mark International Women's Day on 8 March, Omolola launched FIN Connect, an initiative for real-life meet-ups for members, supported by Facebook.
Backlash to feminism in Nigeria
Nigeria is full of feminist leadership. Chimamanda Ngozi Adichie, born in eastern Nigeria, has popularised feminism around the world, particularly through her 2013 TedX talk and 2014 essay "We Should All Be Feminists".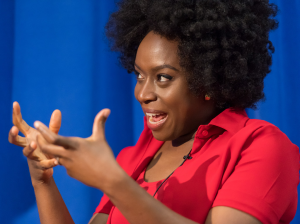 Nigerian author Chimamanda Ngozi Adichie at Howard County Library, Maryland, US 2017. CC BY-NC-ND 2.0. Some rights reserved.
But the topic of feminism is still largely controversial in Nigeria; for many, the term appears to have negative connotations, associated with rebellious, non-virtuous women who challenge African traditions and religions teachings regarding women's roles in society. These values include housekeeping, child-rearing, and other domestic responsibilities.
Last August, for instance, Eunice Atuejide a 2019 woman presidential candidate, tweeted: "I am not a feminist! I actually hate it when people call me a feminist".
Omolola's work has also been repeatedly misconstrued as an attack on traditional societal and religious values but, she told the BBC: "Most people think that the controversy would kill me. They don't realize that it's actually empowering me".  
"Most people think that the controversy would kill me. They don't realize that it's actually 
empowering me"
FIN was set up as a 'secret' Facebook group for Nigerian women to speak out against misogyny. Over the last four years, women have left millions of posts and many have shared their own testimonies of rape, harassment, and violence. Though a serious question has emerged along the way: can a group this big remain a safe space? 
In 2016, Charity "ChaCha" Aiyedogbon — an Abuja-based businesswoman, a divorcee and mother of four, known for her regular, thrilling posts on the FIN Facebook group — reportedly went missing. She had shared many personal details about her life including experiences of domestic violence, abuse, attempted murder with the group and some Nigerians believe these stories were leaked to her attackers.
Emeka Ugwuonye, a lawyer involved in her case, criticized Female IN for the role it may have played by not giving her the necessary protection she needed. 
"The only thing she got was sympathy from fellow women in FIN. The danger was too obvious. Chacha's story was, however, making some people very very angry", the lawyer wrote, in a Facebook post. "It is so easy for problems to emanate from stories told in FIN, and FIN is not able to address such problems".
Data security 
Three years on, Aiyedogbon's whereabouts remain unknown. There have been complaints of leaked information and screen-grabbed posts on the FIN forum. FIN has made it clear in a few posts that it tries to maintain the group's security by removing suspected snitches regularly, but this may not be enough as the group continues to grow. The way through which such snitches are found is not clear.
Since the 2018 Cambridge Analytica scandal where it is no longer news that Facebook is not doing enough to protect the data of its users. 
The 2018 Cambridge Analytica scandal — in which 87 million Facebook users had their data leaked — also revealed how online activism carries increased risks related to data monitoring and sharing. Information shared by FINsters is also susceptible to manipulation by algorithms. These algorithms help Facebook collect information about each individual member of a group. The more active users are, the more vulnerable they are to manipulation. 
Women who stand up to patriarchy face significant consequences. Whether it's women like Aiyedogbon speaking up against abuse, or the Chibok schoolgirls kidnapped in northern Nigeria for trying to gain an education, the system is brutal against those who challenge established norms. 
In both cases, Nigerian women and girls were kidnapped and disappeared. If FIN is to remain a genuinely safe space that empowers Nigeria's women and girls, new strategies must be put in place. This could include allowing women to make anonymous contributions on social media, providing physical safe houses or helping victims of abuse pursue legal action against their assailants. Time will tell what steps Omolola will take to remedy FIN's shortcomings as the movement continues to grow.
_______________
Adaora Okoye is the founder of SDG Factory, a digital media platform she started while she was still a student at the University of Nigeria, Nsukka. She is a digital literacy and sustainability advocate with over 4 years' experience working on projects with several international organizations including UNICEF Voices of Youth, Samsung TUNZA Eco-Generation, USAID, Internet Society, to mention a few. On her podcast, Adaora Talks Impact, she tackles pressing development issues with Africa's industry leaders.
ALSO READ –
Image Credit: BBC Hausa
Disclaimer: The opinions expressed in this article are those of the author not of NDLink