By Ebenezar Wikina
The Global Shapers Community (GSC) is a network of hubs founded and led by young people who are exceptional in their potential, their achievements and their drive to make a contribution to their communities. The GSC is a constituent and an initiative of the World Economic Forum. The Port Harcourt Global Shapers Hub is one of the over 450 Global Shapers Hubs around the world.
We are grateful to our donors, partners, volunteers, founding curator and shapers for their contribution towards making Port Harcourt—and the world at large—a better place for all of us in 2015.  This newsletter is a summary of the different ways we started shaping Port Harcourt in the past 8 months.
Shaping Davos and Preparing to Shape Port Harcourt
In January our Founding curator, Bitebo Gogo, and Deputy Curator, Ebenezar Wikina, joined the Abuja Hub for Shaping Davos; a series of live events hosted by the Global Shapers Community during the World Economic Forum Annual Meeting in Davos using two-way video communications technology. Shaping Davos connected 40 cities from around the world.
They both left Abuja inspired and challenged. The first step was to call for applications. We received 54 applications, and only 12 young people out of the 54 were accepted into the hub after the interview process.
The Port Harcourt Hub decided to focus on 2 thematic areas; volunteering and civic engagement to Shape Port Harcourt. Our research revealed that Rivers State, with Port Harcourt as its capital city, has a population of 4.5 million youth with 32% of them unemployed with an entitlement mentality in the oil rich state. This has resulted in a high level of youth restiveness, violence driven by criminality and impunity in the State. Most of these young people have little or no employability skills that will enable them to get employed. This is a gap that the hub is addressing through volunteering and civic engagement. Young people will be trained to volunteer for various causes, learn new skills; especially social skills to improve their employability skills.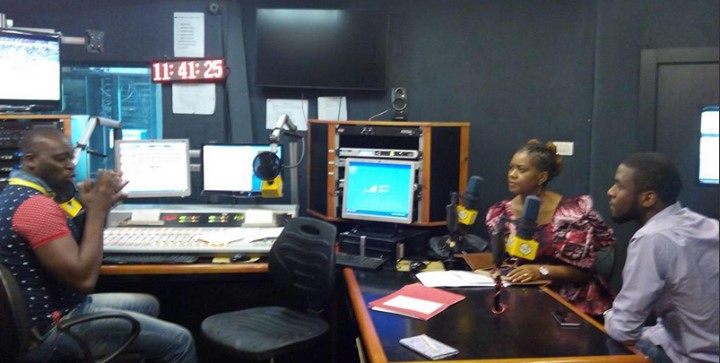 May: Raising Young Blood Donors
The Port Harcourt Hub commenced a month-long online Blood Donation Awareness Campaign with the theme; 'Save a Life, Become a Blood Donor'  which culminated with a radio discussion on Nigeria Info 92.3 FM that has a reach of 3.2 million people, activities on Social Media and ended with an inclusive awareness seminar at University of Port Harcourt. 50 young people  attended (including members of AIESEC and JCI chapters) The campaign was aimed at encouraging regular and new blood donors in Rivers State and beyond, particularly young people, to give blood. After the event, McLarry, a youth who attended the event, made a commitment to become a blood donor.
June: World Economic Forum on Africa 2015
In June, Ebenezar Wikina, our Deputy Curator was one of the 80 shapers who participated at the historic 25th Anniversary of the World Economic Forum on Africa which held in Cape Town, South Africa. He was also a speaker at one of the public sessions that discussed new technologies and media consumption alongside Uzodinma Iweala, Publisher, Ventures Africa, and Hon Faith Muthambi, Honourable Minister of Information, South Africa. Ebenezar mentioned that "attending the event expanded his network and his horizon. He left Cape Town challenged by the projects other hubs are executing, and motivated to Shape Port Harcourt."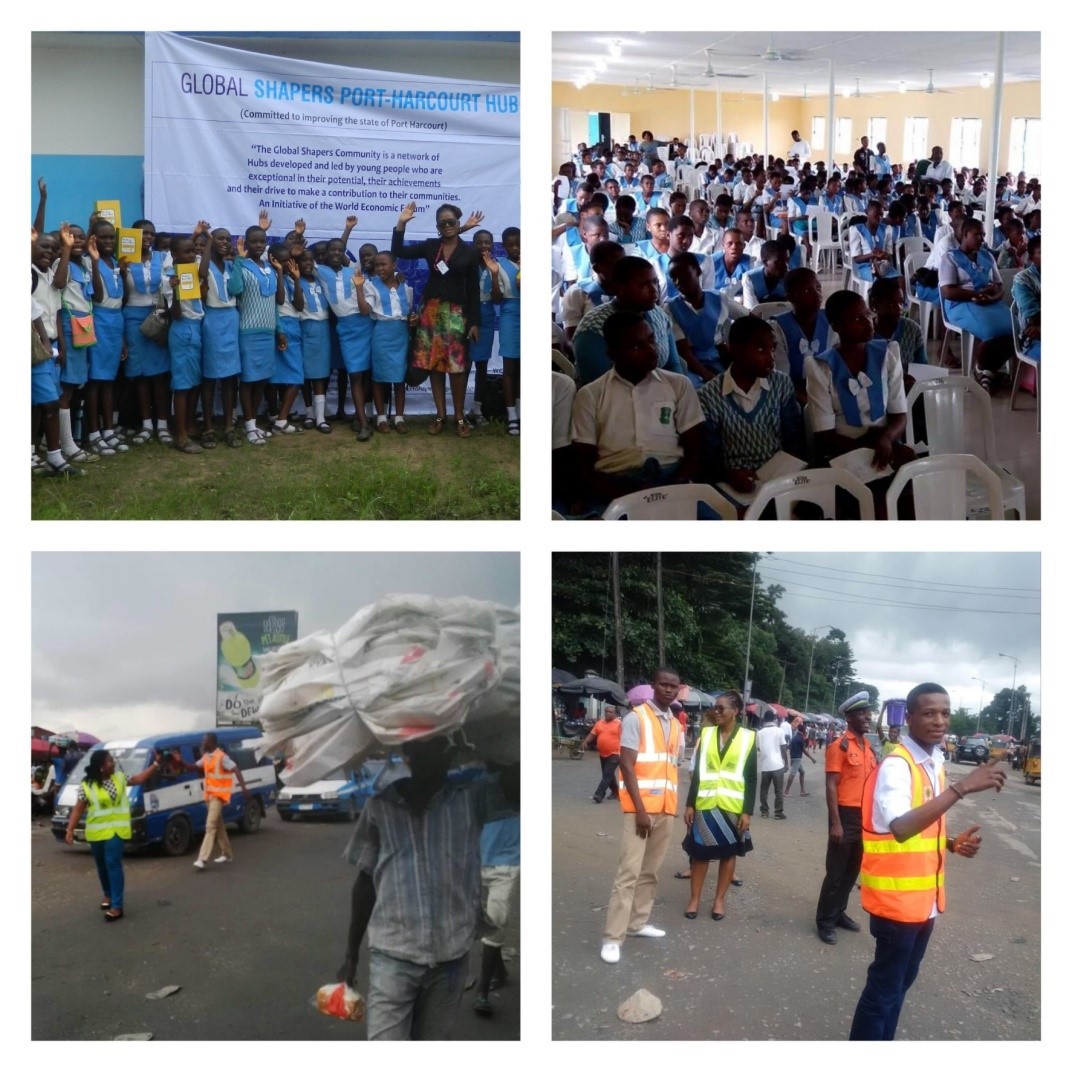 July: World Humanitarian Day and Speaking on Volunteering
The theme for World Humanitarian Day 2015 was "Shared Humanity". The Port Harcourt Hub in partnership with Keeping It Real Foundation worked with the Federal Road Safety Corps (FRSC) to control traffic for few hours at a strategic bus stop in the capital city of Port Harcourt. One of the shapers said that volunteering to control traffic made her realize how important and tiring the job of a traffic warden is, and made a commitment to support the traffic wardens with bottled water every month.
On July 24th we visited International Secondary School, Rivers State University of Science and Technology to speak to over 300 students on the need to become volunteers and how to make the world a better place starting from their school. We distributed 30 copies of, "The Young Leaders Guide" –a book that teaches young people about leadership. Our visit was timely because, the school had given the students community service projects during the summer vacation.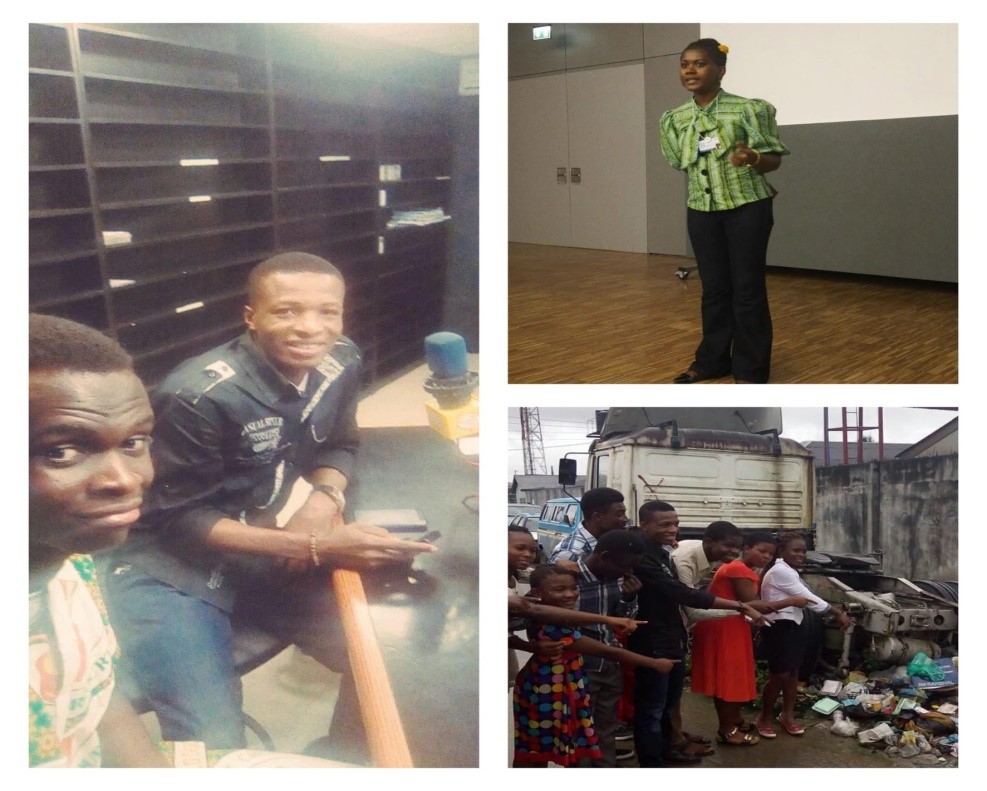 August: Youth Civic Engagement and Annual Curators Meeting
On August 12th we commemorated the International Youth Day with radio discussions on Nigeria Info FM and Rhythm FM in partnership with KIR Foundation. After the discussion on radio we engaged some young volunteers from KIR Foundation to embark on an environmental awareness campaign. We spoke to shop owners and pedestrians on the need to take ownership for cleaning their environment.
In August our Founding Curator, Bitebo Gogo, was at the Annual Curators Meeting in Geneva, Switzerland. She facilitated one of the sessions on Shapers Recruitment and Shapers motivation. Recounting her experience Bitebo Gogo said that, "she realized during the event how we are all connected in the world and none of us can achieve anything of global scale without the other"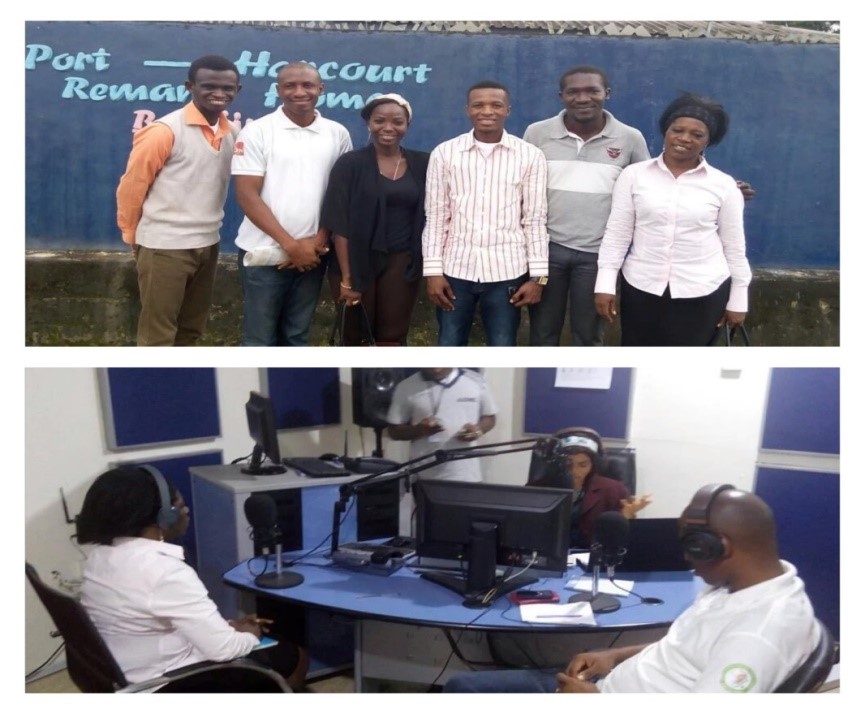 September: International Literacy Day
On 8th September, International Literacy Day, members of the hub together with Mary David, a Lawyer and educationist who is runs a literacy programme at the Port Harcourt Juvenile Home, were at Wave 91.7FM to talk about the importance of literacy for all. Afterwards, the Shapers went with Mary David to the Port Harcourt Juvenile Home to speak with the young people in the Home on the importance of being literate and obeying law and order.
We also donated books and educational accessories to the young people to enhance their performance in the new academic session. Mary David in her thank you speech encouraged the shapers to become mentors to the young people in the Home.
 
October: Meet the Leader and Supporting a Sister Hub
On October 1st, Nigeria's Independence Day, we had our first Meet-the-Leader Session with Mr Folarin Banigbe, an entrepreneur and publisher of the Niger Delta's first freely distributed newspaper; Port Harcourt Microscope. Mr Folarin spoke to the hub on "The Ideal Leader", and shared the story of how he left the oil and gas industry to become a seasoned entrepreneur.
Also in October, we supported our Sister hub in Bangui, the capital city of Central Africa Republic. We sponsored the publication of the #HelpBanguiRise campaign on Huffington Post in a bid to draw awareness to the relief efforts of the Bangui Hub in their period of crisis.
November: #KnowtheSDGs Campaign Starts
Following the adoption of the SDGs by global leaders, the hub commenced an awareness campaign tagged "#KnowtheSDGs" on the 10th of October 2015. The aim of the campaign is to educate Port Harcourt city, offline and online, on the importance of the Sustainable Development Goals and to suggest ways everyone can be a part of it.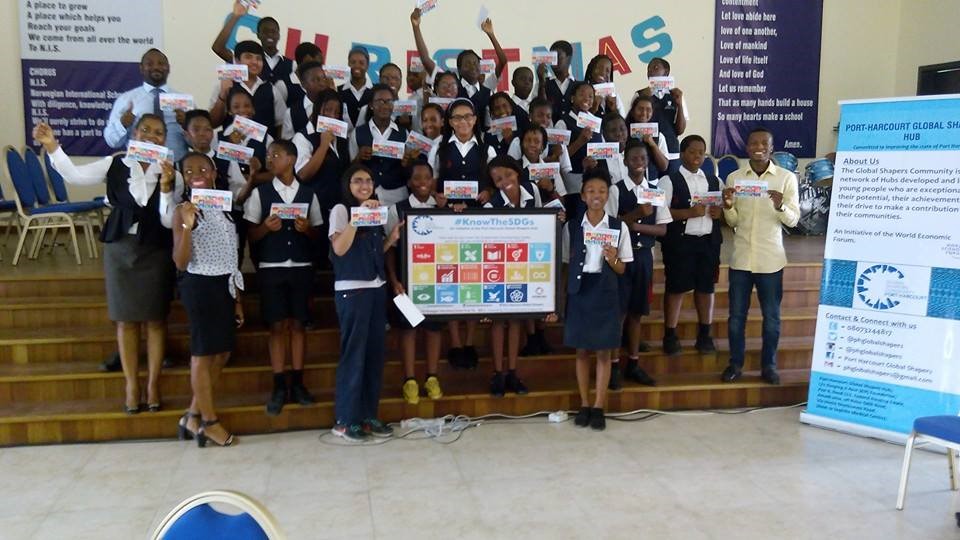 December: Taking the #SDGs to Schools, For the Love of the Boys, and Preparing for 2016
We took #KnowtheSDGs to Norwegian International School, on 3rd December, International Day of Persons with Disabilities. After speaking to the students about inclusion and all the 17 goals, we shared stickers to the students which had infographics about the SDGs and donated an SDGs-board to the school which will be hung at a central place in the school to remind students about the goals regularly. During the event, the management of the school agreed to incorporate the SDGs in their curriculum in the coming academic session.
Our final project for 2015 was on December 23rd at Association Badamia; a Home for street boys in Port Harcourt. We gave the boys gifts and also exchanged hand-made cards which we made with them using cardboard and glue.
In preparation for 2016, we had a meeting with the Special Adviser to the Rivers State Government on the Sustainable Development Goals; Mrs Toru Ofili. In that meeting we discussed to discuss possibilities of partnering with the government to make the SDGs work in Rivers State, especially in Port Harcourt. Â She was excited and willing to work with the hub in 2016.
Looking Back and Looking Forward
Shaping Port Harcourt in 2015 for the hub meant, bonding as a team, inspiring one another to reach out for valuable learning experiences, giving back in a sustainable and scalable manner in little ways as we went along; this was truly what shaping was all about for us.
Shaping is empowering and we look forward to shaping Port Harcourt with you again in 2016. Happy New Year everyone!
Meet the Port Harcourt Global Shapers Team
Bitebo Gogo – Founding Curator
Ebenezar Wikina – Deputy Curator
ThankGod Okorisha – Shaper
Onimim Karibo – Shaper
Dayo Ibitoye – Shaper
Jennifer Nkem-Eneanya – Shaper
Adeniran Adekola –Shaper
Ifeanyi Orajaka – Shaper
Adulmalik Ibrahim – Shaper
Precious Wachiku – Shaper
Nneamaka Obi — Shaper
Clifford Onyenekwe – Shaper
Eden Andrew-Jaja – Shaper
You can find us on Facebook, Port Harcourt Global Shapers, and on Twitter and Instagram, @phglobashapers.
Ebenezar Wikina is the Deputy Curator of the Portharcourt Global Shapers