By Bariton Lezabbey
Members of the Committee on Environment at the Rivers State House of Assembly visited the Bodo Remediation Project site on 20 April 2021 to acquire knowledge about Project activities and to inspect the shoreside waste storage site used by Contractors prior to transport to a government approved waste treatment facility. The legislators were led by the Committee Chairman, Hon. Dumle Maol and included Rt. Hon. Evans Bipi, Hon. (Dr.) Christian Ahiakwo, Hon. (Barr) Sam Ogeh, Hon. (Engr.), Aforgi Igwe, Hon. Lolo Opuende, Hon. Matthew Dike, Hon. Lezina Ngbor, Hon. Nathaniel Nwaji, and Dr. G. M. Gillis-West.
An opening address was provided by the Bodo Mediation Initiative (BMI) Chairman, Mr. Inemo Samiama, after which the Shell Petroleum Development Company of Nig. Ltd. (SPDC) Ogoni Restoration Project Manager, Dr. Vincent Nwabueze, presented an overview of the Project's history and the magnitude of work accomplished starting with free-phase oil removal in 2017 through to the current stage eventually involving the participation of over 2800 workers from the Bodo community. He further highlighted the Project's net benefits to the community in terms of economic gain, skill and capacity enhancement, and the restoration of the mangrove ecosystem.
A question-and-answer session followed, during which many questions were raised by the Committee members. Dr. Nwabueze, Project Director Dr. Erich Gundlach, and Remediation Contractor, Mr. Lesi Maol of Giolee Global Services, provided answers on the level and scope of the United Nations International Maritime Organization (IMO) levels 1 and 2 trainings and certification in Oil Spill Response and Supervision, the hydrogeology of the area, and the waste management process.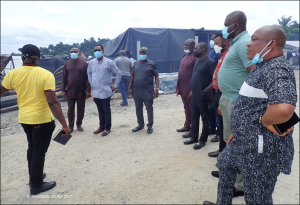 Rivers State Legislators being briefed on site security measures in place
The Committee then undertook a site inspection of the Project's waste storage area at Patrick's Waterside immediately adjacent to the area being remediated. This area serves as a location for short-term waste storage until being evacuated to a government-approved facility for treatment.
After the site inspection, Hon Dumle Maol stated that, "Rivers people are interested in what is happening in Bodo, and this oversight visit is to come and see first-hand how the remediation project is going as well as to investigate the methods being deployed for this important project which is very remarkable not only for Rivers people but the Niger Delta at large". He further stated emphasized that once they conclude with their inquiries as a committee, the lawmakers will address the press.
The BMI Chairman, Inemo Samiama was pleased to have played host to the lawmakers to the cleanup site and hopes the engagement engenders a harmonious partnership for the successful remediation of the contaminated areas.