By Ogadinma Iroka
For Mr. Austin Nwaeze and his wife, Mrs. Lucy Nwaeze, the global pursuit of education and literacy for all, should not only be a classroom and conventional schooling affair. This book and literacy activists couple believe there are other creative, and less formal but impactful, ways of reaching people with reading and literacy interventions. This, they are passionately doing through their registered literacy based social enterprise organization,  Garden City Library, in Port Harcourt, River State,  Nigeria. With Garden City Library, this couple is providing free access to books to people in disadvantaged communities.
''Our organization is founded with the primary aim of creating a strong social consciousness of the importance of reading in all areas of our lives…" – Austin Nwaeze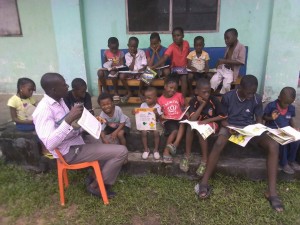 As part of their literacy interventions, they are also helping out-of-school children, illiterates youths and adults to master the basic act of reading.
In a time, when reading culture among the people is increasingly dying, this couple behind Garden City Library, are not just 'talking the talk' but also 'working the talk' – making impactful efforts in contributing towards reversing the trend. In this regard, they added Children Mobile Library to their intervention strategies – under their Project Read Initiative. With this strategy, they are taking books to children in communities where the children live – including out-of-school children.
''We introduced Children Mobile Library to promote this habit of life-long reading from cradle to adulthood, at homes, schools, and communities – targeting densely populated arrears in the city of Port Harcourt and the rural areas in Rivers and beyond, where children are mostly deprived of such services. Our mission is to reach out to homes, schools and communities, to encourage their kid, teenagers and adults to develop values for books as an educational, recreational and functional tool for life-long learning and self-improvement.'' – Austin Nwaeze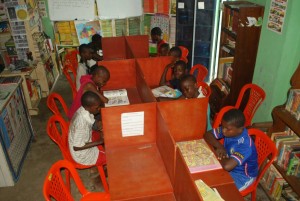 In keeping with the above mission statement, Garden City Library has recorded these landmark achievements over the time.
Over ten thousand books delivered to hundreds of home through mobile book services since 2011;

A library with free books for children and adults;

Hundreds of books donated to adults learners and out-of-school children;

Teens book club,

Book Lovers Club, 

 kiddies book clubs, and 

Young Readers Club;

Reading and literacy remedial classes, and has helped parents deal with obstacles and challenges to reading with their toddlers and teens;

Successfully organized many reading and literacy advocacy, awareness campaigns, workshop/seminars and reading sessions, among other successes and achievements.
Mr. Austin Nwaeze and his wife, Mrs. Lucy Nwaeze say their motivation for what they are doing in service to humanity (for human development), stems from their strong belief that knowledge is key to all achievements in life.
''Our motivation springs from the belief that knowledge is key to all achievements in life, and by sharing knowledge and making books readily available and accessible for people to read, through our mobile libraries and media centers, we would be contributing greatly in enhancing human development in our society.'' – Austin Nwaeze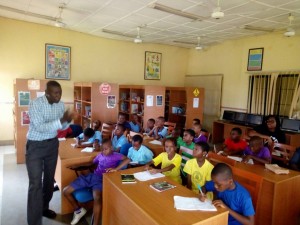 In the light of the above, the passion, efforts, and integrity of this social entrepreneurial couple, is being valued and recognised by government agencies, reputable national and international organizations. Their organization, Garden City Library has partnered with Rivers State Agency for Adult and Non-Formal Education, National Mass Literacy Education Commission, (NMEC), Rainbow Book Foundation (RBF), UNESCO, Port Harcourt World Book Capital City Project, New Partnership for Africa's Development (NEAPAD), UNESCO/Proctor & Gambo Project, Goodluck Jonathan Bring Back the Book Project, Keeping It Real Foundation (KIR), Elechi Amadi Prize for Literature, and River State Secondary School Competition, to mention a few.
_______
ALSO READ
Korfii Uebari: Promoting rural education in Ogoniland
Ebenezar Wikina: What I Learned from Lecturing (Part I)
Opinion: if we will achieve sustainable development this year, then education needs to be top priority
_______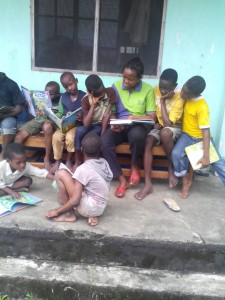 In our world, even as things are increasingly becoming digital, lack of basic literacy remains one of the factors that push people into social and economic exclusion – limiting their life chances.  As such, the importance of the need-based mass literacy interventions of Garden City Library can never be overemphasized. The need-based interventions of the organization directly support and promote the United Nations (UN) Sustainable Development Goals (SDG) Goal 4 – which is to ensure inclusive and equitable quality education and promote lifelong learning opportunities for all.
To support Garden City Library to enable them to keep up their good work, contact them at Baptist High School Compound, Moore House, Port Harcourt; Tel.: 07064894882, Email: godsonnwaeze@gmail.com; Facebook: www.facebook.com/gclprojectread. You can also make a donation to  GARDEN CITY LIBRARY, 0096421155 (Diamond Bank).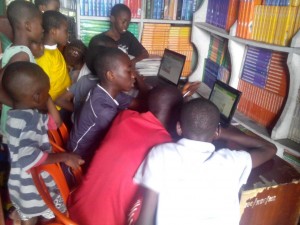 Garden City Library is open for support and partnership with philanthropic individuals, government agencies, organizations, development partners and companies – as part of the companies' corporate social responsibility (CSR).
______
NDLink Contributor, Ogadinma Iroka; is a Sociologist and Development Practitioner. Contact him on: ogadinmairoka@gmail.com
Disclaimer: The opinions expressed in this article are those of the author not of NDLink