DEADLINE – Friday, March 5, 2021
NDYEP is Implemented by PIND Foundation with funding support from the Ford Foundation. In a bid to further support the transition of youth participants of the NDYEP project into entrepreneurship and wealth creation, the project proposes to implement a business ideas/plan challenge fund for aspiring young NDYEP entrepreneurs. It is open to candidates with innovative business ideas or those who are either building individual micro/small businesses or established a business start-up or cooperative business (involving more than one person).
This program aims to encourage and support innovative micro/small business enterprise ideas that create opportunities for income generation and jobs for aspiring young NDYEP trainees in the three project states of Abia, Rivers and Akwa Ibom States.
What is the purpose of the Challenge?
Select, train and support a cohort of aspiring entrepreneurs to establish and nurture their income generation/business ideas, which will be in the specific fields in which they have completed technical training under the project.
How will the Challenge be judged?
Duly submitted proposals/business ideas and plans will be assessed, and shortlisted candidates invited to make a business pitch to a panel in each project state.
A key consideration for selection will be businesses ideas/plans showing good potential for further job creation, and ease of establishment within the experience and competence of the promoter(s)
What is in it for me?
Winners will continue to receive support from Implementing partners and BDSPs through business advisory, mentorship and links/access to professional networks and sources of finance where necessary/available
Awardee will receive a small business grant to support their business plans and disbursed according to agreed workplan and conditions precedent.
Grants are capped at: N500,000 for Individual or Sole Proprietors and N2,000,000 for Startups or Cooperatives
Please Note
Selection and award of the small business grants to winners is at the discretion of the PIND Foundation
Interested Candidates interested in this opportunity are invited to read carefully, complete and submit the application form
Female participants and People living with Disabilities (PWDs) are encouraged to apply
Download the Application Template below as a guide to study and prepare to fill the form online
CLICK HERE OR CLICK ON THE IMAGE BELOW TO ACCESS THE ONLINE APPLICATION FORM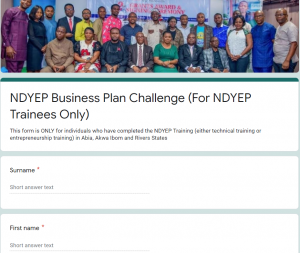 DEADLINE – Friday, March 5, 2021