As part of efforts by NDLink to draw the attention of the international community to development strides in the Niger Delta, NDLink has consistently engaged organizations in the region to project their success stories, projects, and events.
We have shared regular updates regarding the Ogoni Cleanup process as provided via stories from the Bodo Mediation Initiative (BMI). This effort was featured in the latest edition of the International Oil Spill Control Organization Newsletter (ISCO 708).
Find a screenshot below from Page 5 of the newsletter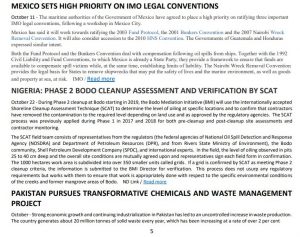 Download the newsletter below
The International Oil Spill Control Organization (ISCO) is a not-for-profit organization incorporated in London in 1984 and dedicated to improving world-wide preparedness for response to oil and chemical spills.
ISCO is a truly international organization, currently with membership in 50 countries around the world – Argentina, Australia, Azerbaijan, Belgium, Belize, Brazil, British Virgin Islands, Canada, China, Colombia, Croatia, Denmark, Egypt, Estonia, Faroe Islands, Finland, France, Ghana, Greece, India, Indonesia, Israel, Iran, Ireland, Italy, Kazakhstan, Kenya, Kuwait, Luxembourg, Malaysia, Malta, Mexico, Netherlands, Norway, Oman, Panama, Portugal, Poland, Qatar, Saudi Arabia, Singapore, South Africa, Sweden, Tunisia, Turkey, UK, Ukraine, United Arab Emirates, Uruguay,  and USA.