By Ebenezar Wikina
A blocked nose, flu, sore throat, and tingly butterflies in my belly were all the ingredients I needed to have an amazing first lecture.
As I walked into the class at Rivers State Polytechnic, Bori, (now Ken Saro-Wiwa Polytechnic) about 200 plus eyeballs turned to me. Some expectant, many of them silently asking themselves "is this the guy?", one girl in front smiles at me. I smiled back.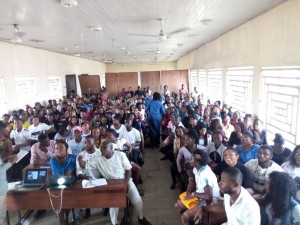 I'm here because my aunt, Mrs Vivian Nwinane and the Department of Mass Communication invited me to guest lecture "Multimedia at Online Journalism".
Aunty Vivian introduced me as her son with a smile. I'm so proud of her, and I want to be humble like her too. She sits down to also listen.
In my head, I thought the class will last for 1 hour but 2 hours later the students were still asking questions and I had to consciously end the class because they had another class from 1–3pm. Well, Aunty said the class didn't hold, no thanks to me.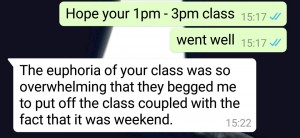 If you have followed my work for the past 3/4 years, you'll notice that I've always been vocal about the educational system. I wrote an article on Huffington Post that went viral a while back, but this time I jumped on this opportunity because it presented a platform for me to experiment some educational reform ideas I had been nursing for years now.
______
Have you also read;
Opinion: if we will achieve sustainable development this year, then education needs to be top priority
______
The euphoria my aunt was referring to was because of two new ideas I experimented:
Engagement
Before you can teach anyone, you need to engage the person. Whiteboard and whiteboard markers are great, but in this age of smartphones, you need a lot more than whiteboard markers to engage millennials.
I asked my aunt to get a projector for me and I prepared beautiful slides and videos to engage the students. Even though my voice was cracked they didn't feel it because they could visualize the illustrations I gave.
Our lecturers need to do a lot more to engage students. When you are engaging enough they will listen. Setting laws to keep their phones down, keep quiet etc is just stressing yourself too much. Just be engaging and they will forget they have phones.
When I got to a point in the lesson and asked how many people have smartphones, it actually took a while for them to search for their phones in their bags and pockets. That's what you get when you engage millennials.
2. Inspiration
Education without inspiration is pointless. We need to not just tell students "what is" but also "why it is", "who can do it", "who has done it before", "how it can be done", etc
We need to breathe life into our lectures. Teaching Multimedia & Online Journalism is a no-brainer for me because it's what I've been practising for close to 1 decade. Since 2009, I've been practising digital journalism and recorded a reasonable amount of success which can be used to inspire the younger generation.
I may be wrong, but I think teaching is more effective when you don't only say, according to xyz textbook, x is y but you also say, from my experience x is y because I experimented it in xyz year and it worked. see it here.
I don't know if that makes sense.
Can't wait for my next class where I will experimenting more and trust me to share all my experiences on ndlink.org
______
Ebenezar Wikina is a member of the NDLink team