There are now over two million COVID-19 cases globally, and about 30,000 confirmed cases in Africa. The World Health Organisation (WHO) has said that at best the disease could kill over 300,000 people in Africa, while a worst-case scenario may lead to the death of as many as three million people. With this in mind, Africa could become the epicenter of deaths by the virus. Clearly, these statistics are scary, but they hint at the necessity of responsibility by African leaders. The global pandemic has set the conditions that will require Africans to look inwards if they are to proffer solutions.
There is a silver lining to that bad news. With the right interventions, COVID-19 will not be the end of Africa — many African countries will come out shaken but intact if the right interventions are done. Presently, countries on the African continent have enforced nationwide lockdowns. This includes the restriction of movements as well as the ban on large gatherings. While these are not the only necessary solutions to curbing the pandemic, they will go a long way to help flatten the curve.
A lot of things will change after COVID-19; economy, politics, government, religious beliefs, public health etc will change. Many of these changes will affect Africa. The defining moment will be how African leaders address these post-COVID changes. Most importantly adequate focus must be given to healthcare. Years of neglect and underfunding has led to a massive decay and deterioration of healthcare systems in Africa.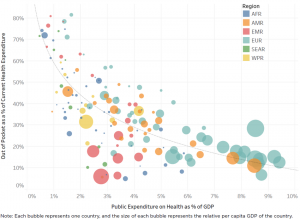 Source: WHO
African leaders must invest in healthcare systems
Africa has suffered the effect of a crumbly health system for a long time; more so with the COVID-19 pandemic, the flaws in our health system have been further exposed. It would have been expected that a continent that has suffered the effect of many endemics such as malaria, polio, tuberculosis, HIV/AIDS, and still battling with Ebola and Lassa fever would have been more prepared. As it stands, Africa is more vulnerable to the effect of the pandemic more than any continent of the world.
Africa is home to more than 70 percent of the worlds' poorest people with the weakest health system globally. Limited public funding and lack of political will have been the major challenge affecting healthcare in Africa. For instance, the Nigerian government only budgeted N427.30 billion for health care in the 2020 budget, which amounts to just 4.14% of the budget. A breakdown shows that only N2000 (approximately $5) is budgeted per citizen for the entire year compared to 2,200 pounds ($2,700) that the UK government has budgeted per person in its 2020 budget. This is a far cry from the $34 to $40 a year per person that the World Health Organization considers the minimum for basic health care. So far, only five countries (Botswana, Rwanda, Zambia, Madagascar, and Togo) have achieved the 2001 Abuja declaration target by Africa Head of States of 15% budget allocation for health by African countries.
After this pandemic is over, I expect African leaders to step up and invest massively in health care. I have a firm belief that with the right investments, Africa can solve its health problems. According to the Healthcare and Economic Growth in Africa report published by UNECA, Africa's current health financing gap stands at $66bn per annum. To close this huge gap, innovative financing through Public-Private Partnerships (PPP) will be needed. Private investors need to take up impact investing if the Universal Health Coverage (UHC) target of the World Health Organisation will be met. I would love to see a PPP arrangement where the government provides the basic healthcare infrastructure while a private entity runs the operations. PricewaterhouseCoopers' (PWC) report on models, lessons and trends for the future of PPP in healthcare identifies leading practices and innovations in healthcare PPPs.
Also, it is time for Africa to start localizing its solutions to healthcare. In the years to come, the ability to create sustainable homegrown health solutions will be very significant. There has to be adequate funding and investment in pharmaceutical research so we can employ local solutions to our health problems. The copy and paste approach of the West adopted by the political class will not be able to solve our health problems. We cannot continue to depend on foreign help forever when there are opportunities for home-grown solutions. African governments need to open up the continent for local manufacture of drugs and health products and support health innovators to invent, deploy, and scale up health solutions that are useful for local African communities. Local health innovations will also provide jobs and help in driving the economy.
It is time to support the growing startups and innovation culture that is deepening its roots in the continent so as to harness the potential of technology on the healthcare systems.
According to Forbes, there are over 600 technology hubs and incubators across Africa. African governments need to invest in more digital initiatives to fight against recurring and emerging health diseases and infections. For instance, in Uganda, Mamaope Jacket, a biomedical "smart jacket" designed by Brian Turyabagye, can quickly and accurately diagnose pneumonia, In Cameroon, Arthur Zang invented the Cardio Pad which is a handheld medical computer tablet that allows healthcare workers in rural areas to send the results of cardiac tests to specialists via a mobile phone connection. Lifebank, established by Temmie Giwa-Tunbosun is tackling the problem of blood shortage in Nigeria and till date has helped deliver over 2000 pints of blood to patients across Nigeria.
These initiatives show the availability of interest and capacity, what is lacking is reliable funding. Donor and multilateral organizations like the African Development Bank (AFDB), Bill and Melinda Gates Foundation, Dangote Foundation, World Health Organisation, the World Bank and several others have continued to donate huge sums to tackle health challenges on the continent, but more needs to be done especially by the political class. Healthcare funding should be prioritized and there is no better time than now.
Dayo Ibitoye is a public policy analyst and International Development Practitioner. He writes from Abuja.
[Images Credit: Lagos State Government, WHO]