National development is the capability of a nation to ensure that citizen's lives are improved through social welfare provision e.g. providing of social amenities; quality education, potable water, transportation, infrastructure, medical care e.t.c. (https://www.slidshare.net).
National Youth Service Corps is a compulsory one year service for all Nigerian graduates under the age of thirty.  Malcolm X said "…the young people are the ones who most quickly identify with the struggle and the necessity to eliminate the civil conditions that are not palatable. While this is a true saying, I wonder what the lives of communities without accessible quality water, Schools without educational aids, healthcare centers without first aid treatment boxes will be if some selfless corps member had not taken it upon themselves as a responsibility to provide a possible solution to emanating problems and challenges in their respective host communities. The role played by different youths during their service year is enormous. Most especially, those who choose to embark on a group and personal community development service projects.
If the outcry of experiencing the epitome of a developed nation is bleeding in the heart of everyone, it's high time to equip youths with quality skills needed to bring positive change and impact to their respective local communities. When the responsibility of developing a nation is committed to the hands of leaders only, the maximum result should not be expected. Why? For every good leader, there must be a committed follower. The only way to see the impact globally is for an individual to take quality responsibility to challenges in their respective communities.
In light of this, serving youth corps members spend one year in an unknown land that is different from their respective origins. The motive behind this is to bring sustainable changes to their host communities without minding wherever they are coming from and where they found themselves. Against all odds, the impact made by some youth during their service year has brought transformation to different communities in Nigeria. As for me, I had the chance to join other fellow corps members for my National Youth Service Corps in 2017 Batch A which was concluded on April 12th, 2018. On June 12th, 2017, the 21 days orientation camp ended and it was time to obey the clarion call in an unknown community. After the closing ceremony, I found out that I was posted to Community Secondary School, Bukuma in Degema Local Government Rivers State. Being my first experience to travel from the west to the southern part of Nigeria, I was afraid when I heard I needed to cross a 15-minute drive on water and also with the tons of frightening stories about the community before getting there. Without panicking, I crossed the water for more than 30 times throughout my service year. Yes… God saved my life.
In the course of serving, I took notice of numerous challenges facing the students and schools in my host communities. Some of these include lackadaisical attitudes towards learning, poor ICT skills, lack of access to proper library facilities and school without name description. To find solutions to these noticeable challenges, I embarked on personal community development service projects with approval from the state coordinator. The projects include three weeks of computer training, school signpost and a weekly visit to community primary schools to teach pupils on morals and inspire them so that they can see life beyond the landmark of their village.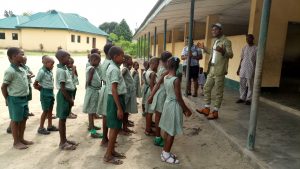 Despite the challenges of getting adequate funds to carry out my accomplished projects, I trained over 50 students for 3 weeks on the introductory aspect of ICT and Graphics Designing in Knowledge Skill Center, Community Secondary School, Tombia, Rivers state. The computers and projectors were provided which made the training easier and result oriented. The first week was used for the installation of necessary software applications and the arrangement of the computer room with the assistance of Mr. Bagshaw Telema who happen to be their computer teacher in the school. The brief theoretical aspect of the training began lasted for one first while the remaining weeks were used for practical classes.  The training covers the introductory aspect of ICT, introduction to graphic design, the theory of graphics, shortcuts, and tools usage. Students were able to use different tools to make beautiful designs. At the end of the training, students were able to design their school identification card, Facebook logo, phone images and many more. The comments given by the students at the end of the training was encouraging.
"This training has benefitted me a lot and I have been able to design." – Rachael Gospel
"I learned how to design the Nigeria flag and some other things." – Charles Godknows
"Within a short period, I have learned so much even than I expected." – Nnangibo God's Time
It's fulfilling to know that those students who were able to put their theoretical knowledge into practice and the readily available educational learning resources provided to the school by the Nigeria Communication Commission finally served its main purpose rather than been locked up as usual without usage.
It was an amazing moment for me whenever I am set to meet with the primary school pupils to share my weekly thoughtful stories and moral talk. Signpost was also installed for the community state school that has been existing without name description for more than 5 years.
Towards the end of my National Service, my project was selected alongside others in the state and I was awarded commendation letters by the National Youth Service Corps of Rivers State for the positive impact I made in my host community during my service year.
I appreciate the scheme for the inclusion of the Community Development Service. It keeps me moving despite the challenges I was exposed to in the community. As a youth and change maker, the above are my contributions towards the development of Nigeria while serving as a Corp member.
The United State or Canada of Nigeria we want is the responsibility of all if it will happen. Individuals must take responsibility to do what is right starting from small communities who lack the most important basic amenities.
Youth are creative, energetic, passionate and exceptional. They are the great impetus to drive every nation forward and Nigeria is not an exemption. Investing in youths with needed skills to drive positive change should be part of every nation's national budget because the investment in youth is directly proportional to their activeness in finding a solution to emanating problems in their locality.
God bless NYSC.
Corper Akinbola Tobi Emmanuel
NYSC-RV/17A/2378
BUKUMA
08031544852
akinbolatobi0gmail.com