We are pleased to inform you our new website is up and ready!
In the previous editions of our newsletter, we told you we were very close to the launch, and today, we are pleased to announce that the NDLink website has been fully redesigned to better serve you. We won't stop there either as we plan to continue enriching the website with more features after the launch.
NDLink has been designed to be your go-to Niger Delta Development Information hub. It is very easy to navigate and you can choose the content that most applies to you. Take a tour of the new NDLink website today! As you navigate the website, make sure you check our new and exciting features including; our technology, Business and investment, Appropriate Technology Enabled Development (ATED) and Funding pages. Some of the older pages like the News and Jobs pages have been revamped to deliver the most accurate and up-to-date news and opportunities in the Niger Delta.
Best of all, you can contribute to the NDLink website! You can share your development stories, opinion pieces, interviews, podcasts and videos to reach even more people. Are you excited?!
Here are key changes you should look out for: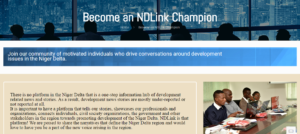 Community
We have included Funders, Champions, and Contributors. We will also be adding Collaborators to our Community page soon. NDLink hopes to connect organizations in the Niger Delta to funders including private sector organizations with corporate social investment projects and other donor organizations. Our Champions are members or stakeholders of NDLink, deeply interested in the welfare of the community and its members. Contributors share development related stories on the platform by writing opinions and analysis, sharing interviews, covering events etc.
Tech
Our new tech page has Startups, Tech People and Tech News culled from the Niger Delta. We hope that you are able to see and adopt recent technologies trends and connect with tech people to promote and develop those ideas that you have been waiting to show the world.

Business and Investment
We have a list of of people and organizations at the forefront of business development in the Niger Delta. You can connect with either business or aquaculture support service providers, co-facilitation services and agricultural clusters in the region.
ATED
The Appropriate Technology Enabled Development (ATED) Page is hosted in collaboration with The Foundation for Partnership Initiatives in the Niger Delta (PIND Foundation). This page features Appropriate Technologies (ATs) developed and currently being used across the Niger Delta. The page also gives details of events and tours at the ATED Centre, the first of its kind in the Niger Delta; built to model sustainable architecture and efficient energy. The ATED Library, currently undergoing construction, will give you access to development resources and information about some of the work development work in the Niger Delta.
One of the more interesting bits of the website is that it is now open for partnerships. At NDLink, we believe you are own the platform and we are the trustees. This means that, by partnering with us, you drive the narrative of developmental change in the Niger Delta.  Take this opportunity to enjoy the benefits of being an NDLink Partner.
NDLink belongs to you. Let us know what you think about this new website by sending your feedback to info@ndlink.org or call 08090475854, 08090475856.
Don't forget to tell your friends and share the good news on your social media platforms. Do well to use the share buttons below.