A Request for a Technical and Cost Proposal
August 18, 2017
British High Commission (BHC) Graduate Regional Capacity Building Assistant
September 15, 2017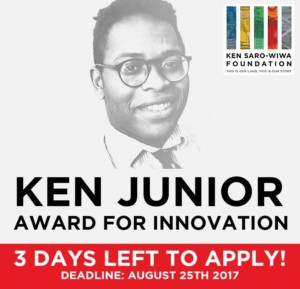 Commerce has continued to evolve with innovations in technology. As experiences have shown, technological innovations have impacted on business areas originally not intended, as much as it has promoted development in no small measure. Technological innovations provide competitive advantage depending on how it is leveraged upon.
In recognition of the important role of technology in business and the challenges to technological innovation in developing societies, the Ken Saro-Wiwa Innovation Hub is pleased to announce its first Ken Junior Award. The foundation seeks to support innovative minds overcome the barriers to innovation and promote economic development in the Niger Delta.
The program aims at building skills and promoting emerging innovative ideas/products/services leveraging on technology to solve consumer needs, social problems or just create revenue. It also aims to foster integration of the Niger Delta innovative community with the national tech community, in order to drive development in the region. It is hoped that the program will contribute to the existing pool of social innovators and entrepreneurs striving to change the narrative of the Niger Delta while contributing to its economic diversification.The Ken Jr. Award is looking for startup ventures with groundbreaking solutions to social and civic problems.
All applicants should possess the first quality, and one or more of the others:
• Entrepreneurs/ventures whose business model is built around providing solutions to social, cultural or environmental problems.
• Innovative and scalable businesses whose solution utilizes a digital or technological element.
• A business with a sustainable model. We believe that in order to make a true long-term impact, a viable plan for revenue streams must be created.
• A team with relevant experience and complementary skills as well as a high degree of commitment. We believe that the capacity and commitment of the team is most essential to achieve the vision.Successful applicants will be awarded the following:
• Self-contained office space at the Ken Saro-Wiwa Centre
• High-speed internet connection
• Constant electricity
• Access to Organization's network
• Access to support and event space for holding workshops and trainings
• Business support and trainings
• Peer Learning
• Mentorship
To apply for this program, follow the link HERE and fill in the necessary information. Download a copy of the application, and send to kenjraward@gmail.com with "APPLICATION TO THE KEN JR. AWARD" as subject of the mail.
Application Deadline: 11:59pm, August 25, 2017